In the Flesh
"I am the ground, I am the earth, I am the soil,
and into me your coldness stole,
till I am solid and brittle"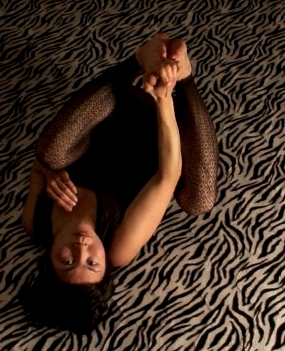 The audience enter the darkened space wearing blue/red anaglyph 3d glasses. On reaching their designated spot they are surprised to see a dancer on the ground in front of them. Although she is in fact a projection (a Spectrefilm), she appears to be actually in the space, solid and real; she is there, in effect, 'in the flesh'. At the end of her four minute dance she fades into nothing.

Premiered at Paradiso, Julidans Festival July 2007 Amsterdam.
UK premiere at Cinecity Brighton Nov. 2007,
London Premiere at Sadler's Wells, London, Jan 26/27 2008

Winner of the Delegates Prize at the IMZ International Dance Screen Festival 2007 in the Hague

presentations:
Victoria and Albert Museum, 29th Feb 2008
Empac, Troy New York State April 2008;
Tramway, Glasgow May/June 2008;
Brighton Festival, Caravan, May 11-13 2008
Bargate Gallery Southampton October 2008;
Shoot Festival Stockholm/Gothenburg/Malmo Oct/Nov 2008;
TTV Festival Riccioni June 2008
British Council Showcase Edinburgh Aug 2009
TPAM Tokyo March 2010


Direction/choreography/music/text – Billy Cowie
Art direction – Silke Mansholt
Performer – Sara Popowa

Supported by Arts Council England and the University of Brighton Faculty of Arts and Communication Research Fund
REVIEWS

TTV FESTIVAL - Cowie's "In the Flesh" bewitches Romagna TTV reviewer and triumphs with its mix of dance and art.
Billy Cowie's In the Flesh is a small jewel of a video installation seen at the 19th Riccione TTV Festival. The Scottish choreographer, film-maker, musician and writer - already author of twenty or so live shows (with Liz Aggiss) and various realizations "on screen" for the series produced by the BBC and Channel4 - uses only four minutes to present it in 3d with the classic red-blue glasses: within a dark space it bewitches with its harmony between music and words and a dancer suspended in the air in front of those who watch. Complete on both aesthetic and ethical levels, In the Flesh is a continuous flow between volumes and voids, between white and black, it feels on the skin like a tactile poem of love, and touches deep chords speaking through its text of abandonment and hopeful waiting, at the same time for the individual person and for our planet.
ELFI REITER - Il Manifesto BOLOGNA del 20 Giugno 08

IN THE FLESH,
TRAMWAY, GLASGOW
If you're in or around the Tramway in Glasgow's southside over the next couple of weeks then pop upstairs, grab a pair of the special wee cardboard specs – yes folks, these are blue/red 3D glasses – and look in, or rather down, on Billy Cowie's utterly beguiling installation.
The title, In the Flesh, is a gentle tease, but Cowie's cunning presentation of a solo dancer, in reality a two-dimensional projection, does actually ensnare you in an exquisite illusion, namely, that the performer is solidly 'in the space'. And when dancer Sara Popowa reaches up, one arm extending towards you, the urge to stretch forward and touch her fingertips is surprisingly potent.
Her stay is brief: a mere four minutes. But it's long enough for Cowie to shade in the piece with movement and score in a way that calls on the imagination to create mini-narratives: is she a captive in some bottle-dungeon? Is she a girl caught up in a private reverie in her bedroom – and are we voyeurs?; or, as the wistful song that figures on the sound-score suggests, is she some Persephone figure who represents the natural cycle of growth, decay and re-growth?
Whatever directions your thoughts take, or indeed whether you just want to appreciate Cowie's craft and creativity, this hauntingly delicate vignette of 'cinema haiku' is an oasis of multi-dimensional enchantments. And it proved worth watching over and over I found.
Mary Brennan – The Glasgow Herald 12/5/8

IN THE FLESH – CINECITY FESTIVAL
Viewers for Billy Cowie's In the Flesh (2007) lift a tent-like flap to enter a physically confined and darkened area akin to a magician's cabinet, as a space set apart from the rules of everyday reality. Georges Méliès wrote of the potential for the moving image to contain "all of the illusions that can be produced by prestidigitation, optics, photographic tricks." Using a projector, an angled mirror, and a pair of 3D spectacles, Cowie transforms a flattened, floor-based image into what he terms "a Spectrefilm" as a female figure manifests, simultaneously solid and insubstantial, as a William Gibsonesque life-size virtual presence, capable of reaching out towards the viewer and eerily connecting gaze. The pared down simplicity of this concept extended to a minimal soundtrack, consisting of piano and spoken word, and to a slowly-paced and carefully considered movement vocabulary, as a hand reaches to connect with an upwardly angled foot in an infant-like exploration of the limits of physical form. A shift from a foetal curl into an angled arrangement of elbows and knees ends with a careful placement of hand, feet and forehead to ground before the figure vanishes entirely into the darkness of a momentary blackout, subsequently rematerialising to start her brief life cycle over again.
Christinn Whyte RealTime issue#83
---
COMMENTS

"So beautiful and moving, a miniature masterpiece"
Alistair Spalding - Artistic Director Sadler's Wells


" The most uncanny thing I have ever seen"
Deborah Levy – Novelist


" A woman comes slowly towards you from the floor. Her meditative and soft energy involves you into her world and brings you to another dimension of the space. It's as if you could touch her – a magical experience."
Suzy Blok – Artistic Director - I Like to Watch Too (Amsterdam 2007)


" In the flesh is beautiful and affecting, the installation makes you feel that you are with a live dancer. I wanted to reach out and touch this moving three dimensional projected image. This play with reality makes the experience almost ghostly.
Mairead Turner - Chief Executive, South East Dance


' Beautiful choreography, so intricate, delicate, human and real'
Professor Joan Frosch, Asst Dir. Schl. Theatre and Dance, University of Florida


' I very much liked the 'in the flesh' installation. It gave me a surreal feeling like being in 'Alice in Wonderland'. It was like she was with me privately. It is a great development in dance filming. The reality and experience is very special.'
Janine Dijkmeijer, Director Cinedans (Amsterdam 2007)


' It is hard to believe that it works but when you see it it's wonderful.'
Kate Grenyer - Exhibitions Officer, Bargate Gallery, Southampton,


' Once I entered the installation, I felt as if I stepped into another reality – an environment of memories, nostalgia, poetry. It also felt that I was slowly sinking into a dream-like state, and there was a witness - a dancer to guide me through while I am in it. I engaged with that witness into a gentle and lyrical dance. She would rise up almost to my height, very near me and then recedes back into her shell. Mesmerizing! This was one of the very few situations with the 3-D installations when I could actually not think about technology behind the piece, but simply be with it and experience it. Very special!'
Alla Kovgan – Director of Kinodance

'The 3D experience, makes you search for an understanding of how the 3D image shifts as you move and sway around the projection, and this search turns your actions into a dance with the character. The work justifies and celebrates its existence with its seamless mixture of formal qualities, entertainment and creativity.'
Dedalus Wainwright - Assistant Director Boston Cyberarts

it truly is a beautiful piece. Viewing the dancer on the floor from a standing position made me I want to pick her up and then roll around with her on the floor.

Lynette Kessler - Director, Dance Camera West, Los Angeles

---
Technical setup

The piece can be presented in three sizes: lifesize, half life size and double (plus) life size.
It runs continuously on a four minute loop. The VGA output from the Minimac feeds into the VGA input of the monitor or projector and the stereo sound output (minijack) feeds into the audio amplifier. In the projected versions the white rectangle on the floor can either be painted directly onto a smooth floor or a projection screen or large white surface can be laid flat on the ground.

Half life size
Blacked out quiet room minimum 2m by 3m
large flat screen lcd television (1m min) with vga input lying flat on floor
minimac computer or media player (we provide)
blue/red glasses (we provide)
setup time 2hours
audience size 2 at a time

Life size
blacked out quiet room minimum 3m by 4m with white rectangle (2m x 2.6m) on floor
Ceiling mounted video projector pointing straight down
minimac computer or media player (we provide)
blue/red glasses (we provide)
stereo sound system
setup time half day
audience size 2-4 at a time

Double (plus) life size
blacked out room minimum 6m by 8m with white rectangle (4m x 5,2m) on floor
Ceiling mounted video projector (min 3000 lumen) pointing straight down
minimac computer or hd media player (we provide)
blue/red glasses (we provide)
stereo sound system
raised viewing platform or balcony
setup time one day
audience size 20 at a time