A stereoscopic piece the work is a seven minute looped 3d dance installation that is projected onto the ceiling. The audience lying underneath and wearing red/blue anaglyph glasses - see what appears to be a solid three dimensional dancer hanging from the ceiling. The piece develops and expands the techniques both filmic and choreographic of Cowie's previous installation - In the Flesh
The Revery Alone explores in a meditative way a slow lyrical choreography that exposes the performing body in a sculptural manner and features as solo performer former Bejart dancer Eleonore Ansari.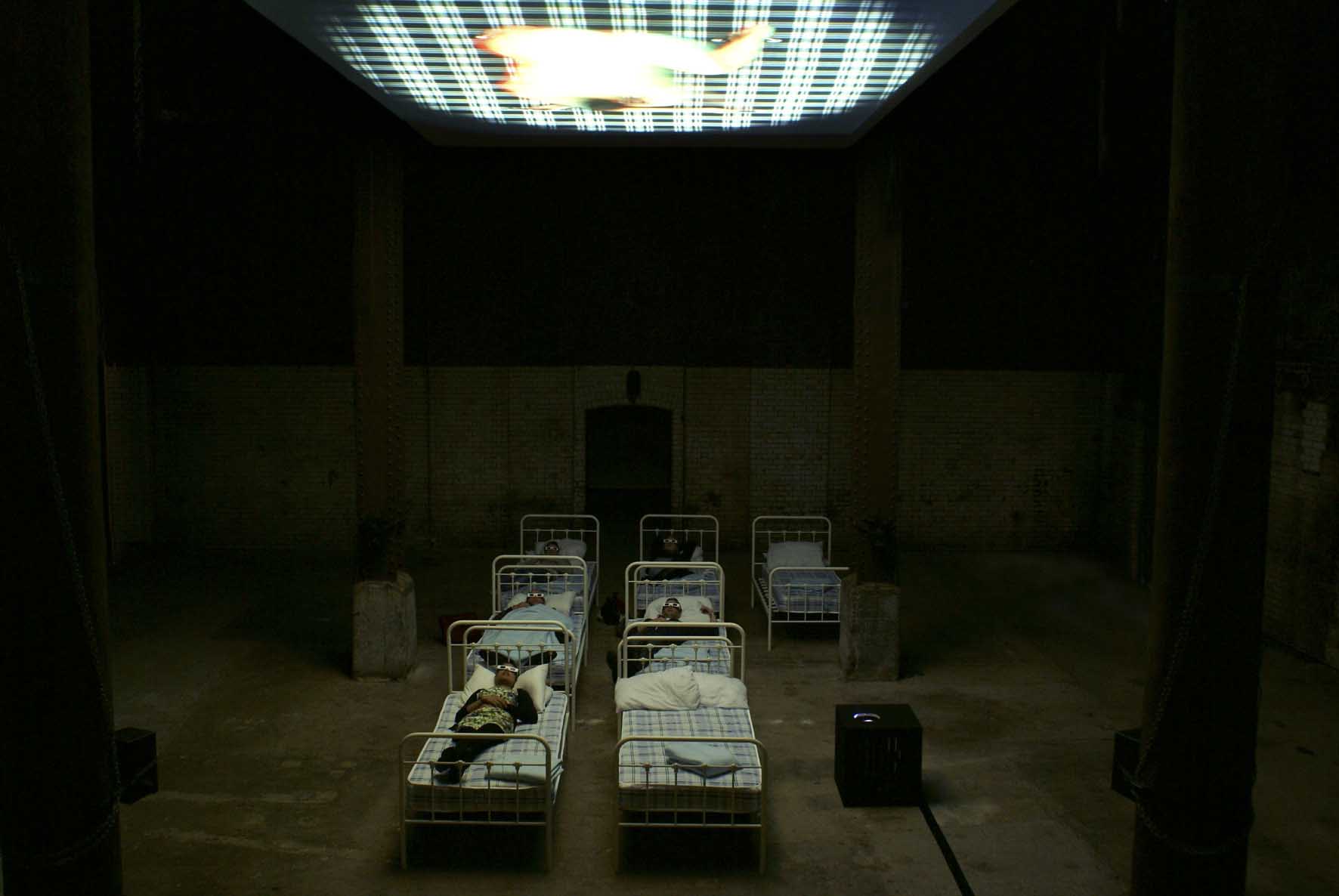 the revery alone at the wapping project (Royal Academy pick or the week http://www.royalacademy.org.uk/ra-magazine/blog/ra-magazines-pick-of-this-weeks-art-events-2329-august,279,BAR.html and Time Out critics choice)

The Revery Alone was previewed as work in progress at the Kahn Theatre, Sadler's Wells, London, on 10 October 2008 received its world premiere in Brighton at South East Dance's next Dance for Camera Festival in December 2008

installed at
Düsseldorf, Temps d'Images Festival (Jan 2009)
Glasgow, National Review of Live Art, (Feb 2009)
Glasgow, Merchant City Festival (2009)
Brighton Festival, (May 2009)
Edinburgh, British Council Showcase (Aug 2009)
Tokyo, TPAM (1-3 March 2010)
Rivoli - Modern Art Museum (10-11 July 2010))
Hong Kong – HK Arts Centre (13-19 Oct 2010)
Guangzhou - 53 Art Museum (17-18 Oct 2010)
Bucharest - Romanian National Theatre Festival (Oct/Nov 2010)
Kochi - Kochi Museum of Art (21 - 28 Nov 2010)
Hobart, Carnegie Gallery (10-30 Mar 2011)
Melbourne, Art House (15-30 Mar 2011)
Varna, Theatre Festival (4-5th June 2011)
Sao Paulo, Danca em Foco (July/Aug 2011)
London, Wapping Project (July/August 2012)
Kyoto, Kyoto Experiment Festival (Sep/Oct 2012)
---
reviews

Billy Cowie's The Revery Alone, a seven-minute looped 3-D installation that is projected on to the ceiling, was compelling in its own right. Lying on the floor, we gazed up at the palely naked, flexing and contorting body of performer Eleonore Ansari. Our 3-D glasses brought her arching back within inches of our faces, confounding reality and replacing it with something mystical, haunting, rare. When she looked down, only once, dark eyes locking with ours, it felt as if she saw .s Afterthoughts are turbulent. Voyeurism is an increasingly tainted accusation. Yet we are, in our daily lives, forever watching and being watched. No blindfolds to absolve us here
MARY BRENNAN Glasgow Herald February 17 2009

The red/blue anaglyph glasses create a 3D holographic effect, tricking your mind into believing that the dancer is actually hanging from the ceiling above you. So convincing is it that I couldn't help worrying that the elegant and gracious hologram above me might slip out of the projection and fall on top of me. Ansari's naked body moves in a slow, graceful but haunting manner, her hands and feet gripping four handles, which both restrict and define her movement. The simple movements are captivating, and seem to be amplified by their dilatoriness. The unclothed figure's movements are choreographed and have sculptural feel, but on occasion her eyes catch yours and her accusatory expression bring home the human emotion and makes you feel as if you are experiencing the performance live rather than watching a film.
It is a fascinating piece, utilising a challenging medium. The Revery Alone combines the movement of the human body at its most basic and pure level with a complex 3D medium. Being placed below the performance in an almost submissive stance compels you to feel more engaged and even become a part of the experience.
Ralph Miller LATEST 7 Magazine Dec 2008

Hanging by her hands and feet from the ceiling a naked dancer contorts and stretches before giving the observer below her a look that is best described as withering.
This is the amazing new seven-minute 3D creation by Brighton-based filmmaker Billy Cowie.
Duncan Hall THE ARGUS Dec 2008
---
technical requirements

the piece requires;

a room with no light coming in.

a video projector (can be standard 1024x768 resolution but higher resolution is better) on the floor pointing straight up (if projector can not point directly up then a mirror can be used)

a ceiling that is smooth and white or that has an area at least 2m by 3m that is smooth and white on it (otherwise a screen can be attached to the roof)

a standard stereo sound system. The music is fairly ambient.

a floor or some mats or material that the audience can lie on.


We provide the hd media player to run the piece and also the red blue glasses. Set up time around an hour. Four or five people view the piece at once which lasts 7 minutes and then loops.